Abbey Fields is a picturesque landscape with views of Kenilworth Castle and the town itself. There's a children's play area, grassy slopes, historic buildings, and mature trees that date back to when the grounds were part of St Mary's Abbey farmland. Due to its the historical past, Abbey Fields is listed as a Scheduled Ancient Monument by Historic England.
Finding Abbey Fields
Below is a map to help you locate Abbey Fields. There is a car park located off Bridge Street and at the time of writing, the first 2 hours of parking is free. If you are cycling there, you will find bike racks outside the swimming pool building.
What to do there
Abbey Fields is ideal if you want to have a stroll along the brook or around the lake, watching the ducks play. There's an indoor 25M swimming pool open every day and a café on-site selling food and drink. The swimming pool offers a range of activities such as Aqua Fit junior and adult swimming lessons and can also be hired for birthday parties. There's also a children's play area suitable for all ages.
Five tennis courts within Abbey Fields are free to use. If you like fitness, there is some outdoor gym equipment that is again free for anyone to use.
There are toilets, including disabled and baby changing, in the swimming pool building.
Five fitness exercises you can do in Abbey Fields
Hill Sprints
The entrance from Castle Hill finds a steep grass slope. Running up the hill as fast as possible is for good cardio and endurance.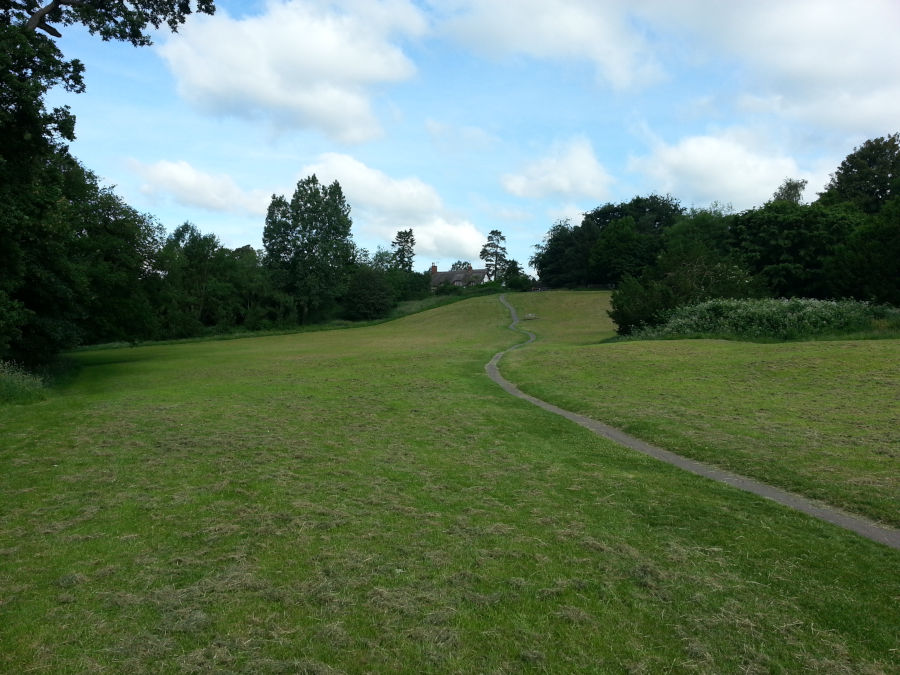 Flat Sprints
At the base of the grassy slope, there is a flat grassy area that you can use for sprinting. Again, good for cardio.
Burpees
Plenty of space for this one! You begin in a standing position then move into a squat position with hands placed on the ground. From here, you kick your legs back to assume the plank position, with your arms extended. From here, immediately return to the squat position and then stand up/jump up. Repeat.
Mountain Climbers
This exercise is excellent for cardio, strength training and core strength. You start in a plank position with arms and legs extended. Keeping your abs pulled in and body straight, start by bringing your right knee up to your chest whilst maintaining your abs tight and straight plank position. Now switch legs by bringing your left knee up to your chest and your right knee returning to the extended position. Continue to switch knees up to your chest as if you were running. Mountain climbers help to build upper body strength and cardio fitness.
Squat Jumps
Standing with your feet about a shoulder-width apart and point your toes slightly outward. From here, assume the standard squat position and keep your thighs just about the height of your knees. From here, jump up into the air. When landing, have your legs slightly bent to cushion your descent and then assume the squat position immediately for another explosive jump.
Please consult your doctor before attempting physical exercise. If you would like personal trainer sessions in Kenilworth, please contact Dean Clarke.